Victoria Station is one of the busiest stations in London and if you are visiting the city, chances are that you will be going through the station at one point or another of your trip. Storing bags near Victoria Station can be super beneficial for your trip as you can enjoy the city hands-free and visit the amazing attractions nearby such as Westminster Cathedral, Westminster Abbey, and many others.
Guide 2021: Luggage storage in London: Victoria Station
Finding luggage storage in London can be what makes your trip a lot easier. Left luggage and lockers at Victoria Station can easily be found with a few steps. There are many options to store your bags, suitcases, or sports gear in Victoria Station. In this article, you will find the main solutions as of 2021 to drop your baggage and explore London lighter and stress-free.
We picked LuggageHero as the the best luggage storage service near Victoria Station
We would recommend travelers to check out LuggageHero as luggage storage provider. They have many stores in London and because of this, travelers never have to walk far to find a store when trying to store their bags in London. Actually, LuggageHero has a store less than 200 meters away from Victoria station. Luggage lockers in London's Victoria Station can be risky and you have no guarantee for your items, which is why another option such as LuggageHero might suit you better.
LuggageHero is the best luggage storage service by Victoria Station
Store your luggage and don't think about it anymore You can store every kind of luggage at our locations. It doesn't matter which size your luggage is, what's important is that you can chill without it. Store every kind of bag: backpack, trolley, ski equipment, and so on. And there's more! You choose how you want to pay, if by the or daily.
Flexible and easy to use
Are you staying more than one day? Don't worry! Not only it's super easy and flexible, but LuggageHero is also convenient: after the first day, you'll only pay $5 per bag! Your luggage can stay in our store locations also for long periods!
Download LuggageHero's free luggage storage app in London
Use the official LuggageHero app to store your bags anywhere around the city!
Or download the App by scanning this QR code. It's that simple!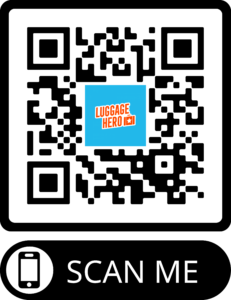 Interactive left luggage in London, near Victoria Station price map
In the following map, you can locate very easily the Victoria train Station luggage storage options available in and around Victoria Station. The map makes it easy and allows you to stop searching for "luggage storage near me" and see it for yourself the available locations.
By clicking on a colored pin on the map, you can access additional information about the location such as prices, baggage insurances as well as a link to more details. Bag storage Victoria Station just went on a new level when it comes to how simple it is!
Browse, explore and make your choice! An easy way to find out where to leave luggage near Victoria Station and avoid risky Victoria Station lockers. Lockers can easily be broken into and offer no insurance. When you use a luggage storage service you get the safety for your luggage you deserve while enjoying the city worry-free! 
https://luggagehero.com/iframe/map-of-shops/?lat=55.713200&lng=9.613910
The different types of luggage storage Victoria Station
The main types of luggage storage near Victoria Station and lockers in London are described below. Victoria Station left luggage has many different options.
"Airbnb luggage storage" with LuggageHero and Radical Storage
Airbnb luggage storage is an innovative solution to the struggle of visiting a city with luggage. Companies such as LuggageHero, Vertoe and Radical Storage allow travelers to drop their luggage in a secured restaurant, hotel, or bar, located around Victoria Station and the most important hubs of London, providing cheaper prices and more flexibility compared to the traditional luggage storage facilities.
Their services differ in some aspects, LuggageHero allows customers to pay only for the hours spent on storing your bags, while Radical Storage proposes their service at a unique price for the first 24 hours. LuggageHero provides also a larger range of LuggageHero certified shops which gives more options to their clients when looking for the most convenient location.
In both cases, the bookings are done online which facilitates the transactions. The opening hours fluctuate according to the local shop in which you store your suitcases.
Self-storage with Big Yellow Self Storage
Big Yellow Self Storage provides solutions-oriented towards mid to long-term storage. They also provide business and home storage which can be very convenient. This company provides storage rooms from 10 square meters until 400 square meters.
This can be very useful for students going abroad and wanting to keep their belongings safe for a long period of time by storing luggage near Victoria Station.
Left luggage at Victoria Station 
Leaving your luggage at Victoria Station is possible due to the many different luggage storage services available in the city of London.
You can either leave your luggage at Excess Baggage Company, which is located between platforms 7 and platform 8. It is open from Monday to Sunday in the times from 07:00 – 00:00.
Or else you can try our favorite candidate LuggageHero!
The prices are as low as 1£ an hour with LuggageHero and never more than 8£ for a full day. You can further find luggage storage facilities at Victoria Coach Station. It is open daily between 8.30am and 10pm and costs £10 for 24 hours which can be a problem if you are there on an early morning or during the night. In that case, you can find a storage location that works 24/7 just 300 meters from Victoria Station with LuggageHero. To leave luggage near Victoria Station, you can also book in advance in order to insure there is always space for your bags.
Is there any difference between left luggage and luggage storage
Left luggage is the luggage that people leave in an established luggage storage facility. Left luggage is mostly being used in the UK. Luggage storage is a storage facility where luggage can be left. Luggage storage is the term used internationally when referring to storing luggage.
To sum up, there is absolutely no difference between the two concepts. Both reflect people's need of storing luggage that can be collected at a later time. So whether you are looking for left luggage or luggage storage, LugaggeHero can take care of your belongings.
Luggage storage near Victoria Station during COVID-19
Our favorite luggage storage service, LuggageHero has created a COVID-19 resource hub where you can find relevant up to date information about COVID-19 in London and other cities.
Remember to comply with the current rules and regulations in the area when storing luggage near Victoria Station. Storing luggage at Victoria Station during COVID-19 is safe if you are careful and keep up with the current rules and regulations in the area. 
LuggageHero are offering contactless booking and luggage storage near Victoria Station. They have taken measures to temporarily close accounts with storage partners in London who cannot operate because of local regulations and the current health situation in their cities. However, they also look forward to welcoming all their storage partners in London back online when the situation is under control.
Storage offices with Excess Baggage Storage
Excess Baggage Storage is a company present in most Airports and Railway Stations of London providing luggage storage options in the form of offices. They are usually open every day from 7 am until 11 pm.
This company allows their customers to book online and to pay in advance. Group discounts and commercial storage spaces are available under some conditions.
Victoria Station's particularities
Victoria Station is one of the main Railway and Underground stations in London. It is even the second busiest railway station in the entire United Kingdom, after Waterloo Station and before Liverpool Street Station. Chances are that if you visit London, you will at some point go by Victoria Station. The station is located in the district of Westminster near Belgravia. Moreover, it is the most important station in the West End. Victoria Station has been created to commute visitors of the great exposition of 1851 transferred from Hyde Park to Sydenham.
The station was named "Victoria Station and Pimlico Railway" after the inauguration of a line commuting passengers on the other side of the Thames. Nowadays, Victoria Station has access to the District Line, the Circle Line, and the Victoria Line. Lastly, the Gatwick Express, a train from and to Gatwick Airport departs and arrives in Victoria Station
Facilities in Victoria Station
Apart from dropping off your luggage at Victoria Station, you can use many other different facilities in the station.
The tickets office is available from 4 am until 1 am. Advance purchase tickets are also available from the ticket offices from 7 am until 9 pm. You can also find ticket machines.
ATMs and Bureau de change are present next to the Buckingham exit of Victoria Station.
It is possible to hire cars with the company Sixth.
Baby changing spaces and toilets are available for a fee next to the Grosvenor Gardens exit.
A large variety of coffee shops, restaurants, and fast food places are open until late hours.
Passengers can also shop while waiting for their train in shops such as Boots, TM Levin and Monsoon.
Other possibilities for left luggage in London:
Explore other luggage storage options in London here. 
Download the easiest luggage storage app in London
For even more comfort you can download the easiest luggage storage in the London app created by LuggageHero where you can easily see all the most convenient locations around London. With this luggage storage app, you are able to find places to store luggage in London city anywhere in +120 locations with just a few clicks.
Use the official LuggageHero app to store your bags anywhere around the city!
Or download the App by scanning this QR code. It's that simple!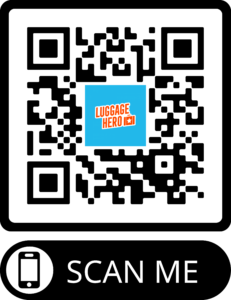 FAQ
Where can I store my luggage at Victoria station?
You can store your luggage in Big Yellow Self Storage, Excess Baggage Storage, or LuggageHero, our preferred provider of luggage storage.
How much does it cost for storing the luggage at Victoria station?
The prices of the luggage storage vary depending on the operator and the length of the storage usage. According to us, the most suitable is LugaggeHero, if we take into consideration the price, safety, length of storage, and convenience. If you decide to go with our preferred provider of baggage storage, LuggageHero, then it will cost you 1£ for every hour of luggage storage. Although, the maximum amount would be no more than 8£ for the entire day.
What is there to do around Victoria station?
Victoria station is very well connected to the whole inner and outer London, so there is always something to do, no matter where in London it is. However, there are attractions worth seeing, even without further traveling from the station. You can visit the Apollo Theatre, Big Ben, Buckingham Palace, Westminster Abbey, or the Queen´s Gallery within walking distance.
What are the opening hours of Victoria station?
Victoria Station is open daily, 24 hours.
Are there any F&B places near Victoria station?
Of course! Since Victoria station is located in the central London, you can be sure to find many cafés, bars, restaurants or kiosks all around. If you do not have a plenty of time to spend, we would recommend eating places directly at the station such as Café Rouge, Ed´s Diner, Tortilla, Prezzo or Frankie and Benny´s. These are our favourite!
Where is Victoria Station?
The station is in the City of Westminster, located west of Vauxhall Bridge Road, south of Victoria Street and east of Buckingham Palace Road.
Which tube lines go to Victoria Station?
If you want to go to Victoria Station, you can take the District line, Circle Line, and the Victoria line.
Are Victoria Coach Station and Victoria Station the same?
Victoria Coach Station is a London local-buses-only station, and it's just 10 to 15 minutes on foot from Victoria Station.
Are toilets at Victoria Station free?
YES! Toilet services are free to use in the Victoria Place shopping center and Hudson Place. For more information, ask a station staff member.