Luggage storage in Oxford Street
Discovering London is definitely an enriching experience. However, carrying around your suitcase before or after arriving can ruin your day. Moreover, many attractions have strict no-bags policies.
Left luggage near London Oxford Street!
There are plenty of options to store your bags, suitcases, or sports gear in the surroundings of London Oxford Street. Here are the main bag drop solutions to free yourself and go enjoying the wonderful view of London Bridge without having to carry around your baggage.
Best luggage storage service for London Oxford Street
LuggageHero is our preferred luggage storage service around London Oxford Street. There are several reasons for this such attractiveness of the storage locations in the area and flexible pricing, luggage insurance as well as convenience of online booking.
Best place to store your luggage near Oxford Street
The best luggage storage shop for this location is Londis
Why Londis shop is the best place to store luggage near Oxford Street:
Located just 8 min away from Oxford Street Station
£1/hour
Opening hours: 24/7
Luggage insured with LuggageHero against damage, loss, and theft
NO NEED TO BOOK IN ADVANCE
Download the app for a smoother experience
You can download the LuggageHero luggage storage app where you can see all of their locations around The British Museum. Experience the luggage storage as 2021 most popular travel hack:
Or download the App by scanning this QR code. It's that simple!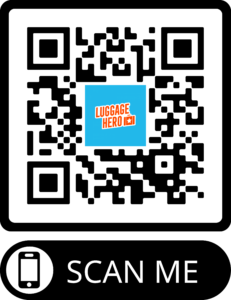 "Airbnb luggage storage" with LuggageHero
LuggageHero allows travelers to drop their luggage and bags in a certified restaurant hotel bar or local shop. Travelers have to book online a location and drop their luggage which will be sealed with a LuggageHero tag. This company charges their customers only for the exact time that their bags are stored with full insurance.
LuggageHero has over a hundred locations in London and 5 around London Oxford Street to choose from. This solution of short-term storage provides a lot of flexibility and the ability to improve your day.
Is there any difference between left luggage and luggage storage
Left luggage is the luggage that people leave in an established luggage storage facility. Left luggage is mostly being used in the UK. Luggage storage is a storage facility where luggage can be left. Luggage storage is the term used internationally when referring to storing luggage.
To sum up, there is absolutely no difference between the two concepts. Both reflect people's need of storing luggage that can be collected at a later time. So whether you are looking for left luggage or luggage storage, LugaggeHero can take care of your belongings.
London Oxford Street's particularities
Oxford Street is a major road in the City of Westminster in the West End of London, running from Tottenham Court Road to Marble Arch via Oxford Circus. It is Europe's busiest shopping street, with around half a million daily visitors, and as of 2012 had approximately 300 shops. It is designated as part of the A40, a major road between London and Fishguard, though it is not signed as such, and traffic is regularly restricted to buses and taxis. Despite competition from other shopping centers such as Westfield Stratford City and the Brent Cross Shopping Centre, Oxford Street remains in high demand as a retail location, with several chains having their flagship stores on the street, and has a number of listed buildings.