Guide 2023: Luggage storage in London Bridge
Are you looking for luggage storage near London Bridge?
Discovering London is definitely an enriching experience. However, carrying around your suitcase before or after arriving can ruin your day. Moreover, many attractions have strict no bags policies.
London Bridge left luggage
There are plenty of options to store your bags, suitcases or sports gear in the surroundings of London Bridge. Here are the main bag storage London Bridge solutions to free yourself and go enjoying the wonderful view of London Bridge without having to carry around your baggage – whether you want to enjoy the view of the bridge or need to find a way for luggage storage.
Left luggage London Bridge has now been made super easy. London Bridge bag storage can help you enjoy your trip hands-free and use those hands to take some awesome pictures instead!
LuggageHero is the recommended luggage storage service at London Bridge
LuggageHero is our preferred luggage storage service around the London Bridge area. There are several reasons for this such attractiveness of the storage locations in the area and flexible pricing, luggage insurance as well as convenience of online booking.
How much would it cost to store my luggage near London Bridge
LuggageHero allows travelers to drop their luggage and bags in a certified restaurant hotel bar or local shop. Travelers have to book online a location and drop their luggage which will be sealed with a LuggageHero tag. This company charges their customers only for the exact time that their bags are stored with full insurance."Airbnb luggage storage" with LuggageHero
LuggageHero has over a hundred locations in London and 5 around London Bridge to choose from. This solution of short term storage provides a lot of flexibility and the ability to improve your day.
Store your luggage and don't think about it anymore
You can store every kind of luggage at our locations. It doesn't matter which size your luggage is, what's important is that you can chill without it. Store every kind of bag: backpack, trolley, ski equipment, and so on. And there's more! You choose how you want to pay, if by the hours or daily.
Flexible and easy to use
Are you staying more than one day? Don't worry! Not only is it super easy and flexible, but LuggageHero is also convenient: after the first day, you'll only pay £5 per bag! Your luggage can stay in our store locations also for long periods!
Download the easiest luggage storage app in London
Is there any difference between left luggage and luggage storage
Left luggage is the luggage that people leave in an established luggage storage facility. Left luggage is mostly being used in the UK. Luggage storage is a storage facility where luggage can be left. Luggage storage is the term used internationally when referring to storing luggage.
To sum up, there is absolutely no difference between the two concepts. Both reflect people's need of storing luggage that can be collected at a later time. So whether you are looking for left luggage or luggage storage, LugaggeHero can take care of your belongings.
London Bridge's particularities
Many bridges have received the name "London Bridge" over the centuries. The current structure has been built in 1973 and allows pedestrians and vehicles to cross the Thames and join Southwark from the City of London. The nursery rhyme "London Bridge is Falling Down" is directed to this piece of architecture and is referring to the many historical collapses in its history.
London Bridge Station's luggage storage is one of the most demanded luggage storage locations so booking in advance whenever possible is always a good idea.
Download the easiest luggage storage app in London
For even more comfort you can download the easiest luggage storage in the London app created by LuggageHero where you can easily see all the most convenient locations around London. With this luggage storage app, you are able to find places to store luggage in London city anywhere in +120 locations with just a few clicks.
Use the official LuggageHero app to store your bags anywhere around the city!
Or download the App by scanning this QR code. It's that simple!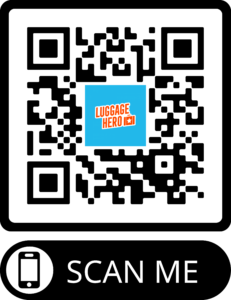 Luggage Storage Guide for Paris in 2023
If you're planning to travel to Paris in 2023 and looking for a convenient place to store your luggage, be sure to check out this guide. It lists a variety of options, including luggage storage facilities located near popular tourist destinations, as well as luggage storage services offered by hotels and hostels. Whether you're looking for a short-term or long-term storage solution, this guide has you covered. With so many options to choose from, you're sure to find a luggage storage option that suits your needs and budget. So, before you head out to explore the city of lights, be sure to check out this guide to find the best place to store your luggage in Paris.
FAQ for London Bridge
Where can I store my bags near London Bridge?
– There are many options for storing your bags near the bridge with the closest one being only 200m away. The location is open 24/7 and offers luggage storage for only £1 per hour!
How much does it cost to store bags near London Bridge?
– Storing your bags near London Bridge starts at only £1 per hour with a maximum daily fee of £8 per bag. That is the cheapest option with LuggageHero, however there are many different options for luggage storage near the bridge.
Where can I leave my luggage in London?
– Bags and suitcases can be left at left luggage offices at some of London's principal train stations, Victoria Coach Station, and a few stores and hotels in the city. At any London underground/tube station, there are no self-service left luggage lockers or left luggage offices. The most affordable options are usually luggage storage services like LuggageHero or Nannybag.
Can you take a suitcase on the tube in London?
– Yes, as long as it's under two meters, you can take as much as you can safely carry on the tube. However, you may not leave your luggage unattended so make sure to be mindful of that.