Guide 2022: Luggage storage in Covent Garden
Discovering the unique vibe of the Convent Garden market or browse the artisanal products in these colorful streets are enriching experiences. Carrying around your suitcase while doing so can ruin your day.
Left baggage near Covent Garden!
There are plenty of options to store your bags, suitcases or sports gear in the area of Covent Garden. Here are the main solutions to free yourself and go enjoying the unique atmosphere of Covent Garden without having to carry around your baggage.
LuggageHero is the recommended luggage storage service in Covent Garden
We recommend LuggageHero as a preferred luggage storage solution around the Covent Garden area. There are several reasons for this such as the attractiveness of the storage locations in the area and flexible pricing, luggage insurance as well as convenience of the online booking process.
Store your luggage and don't think about it anymore
You can store every kind of luggage at our locations. It doesn't matter which size your luggage is, what's important is that you can chill without it. Store every kind of bag: backpack, trolley, ski equipment, and so on. And there's more! You choose how you want to pay, if by the hours or daily.
Flexible and easy to use
Are you staying more than one day? Don't worry! Not only is it super easy and flexible, but LuggageHero is also convenient: after the first day, you'll only pay £5 per bag! Your luggage can stay in our store locations also for long periods!
Best place to store your luggage near Covent Garden
The best luggage storage option for this location is Mail Boxes Etc. Covent Garden
Why Mail Boxes Etc. Covent Garden is the best place to store luggage around Covent Garden:
Located just 4 min away from Covent Garden
£1/hour
Opening hours: Monday – Friday, from 09.00am to 06.00pm, Closed on Saturday and Sunday
Luggage insured with LuggageHero against damage, loss, and theft
NO NEED TO BOOK IN ADVANCE
Download the app for a smoother experience
You can download the LuggageHero app where you can see all of their locations near Covent Garden. Experience the luggage storage as 2022 most popular travel hack:
Or download the App by scanning this QR code. It's that simple!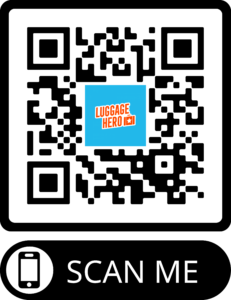 Types of luggage storage around Covent Garden
Below you will find a description of the characteristics of the different left luggage solutions available in the surroundings of Covent Garden.
"Airbnb luggage storage" with LuggageHero
LuggageHero allows travelers to drop their luggage and bags in a certified restaurant hotel bar or local shop. You book a location online and drop off your luggage which will be sealed with a LuggageHero tag. This company charges customers only for the hours the bags are stored with full insurance.
Storage offices with Excess Baggage Storage
Excess Baggage Storage is a company present in most Airports and Railway Stations of London. Charing Cross station is very close to Covent Garden, therefore it is possible to store your piece of luggage there. They provide luggage storage options in the form of offices – open every day from 7 am until 11 pm.
This company allows its customers to book online and to pay in advance. Group discounts and commercial storage spaces are available under some conditions.
Is there any difference between left luggage and luggage storage
Left luggage is the luggage that people leave in an established luggage storage facility. Left luggage is mostly being used in the UK. Luggage storage is a storage facility where luggage can be left. Luggage storage is the term used internationally when referring to storing luggage.
To sum up, there is absolutely no difference between the two concepts. Both reflect people's need of storing luggage that can be collected at a later time. So whether you are looking for left luggage or luggage storage, LuggageHero can take care of your belongings.
Covent Garden's particular experience
Covent Garden is the name of a district of Westminster but it is commonly associated with its fruit and vegetable market on the main square. The market is nowadays known for its luxury shops and its gourmet restaurants. As it is licensed for street performance, Covent Garden's streets host performance every single day of the year, and the courtyard space is dedicated to street music. The Piccadilly line commutes passengers to this lovely tourist experience by Covent Garden Underground Station.
Download the easiest luggage storage app in London
For even more comfort you can download the easiest luggage storage app in London created by LuggageHero where you can easily see all the most convenient locations around London. With this luggage storage app, you are able to find places to store luggage in London city anywhere in +120 locations with just a few clicks.
Use the official LuggageHero app to store your bags anywhere around the city!
Or download the App by scanning this QR code. It's that simple!