WE ALL LOVE TO TRAVEL – but we can all agree that it is simply not pleasant to drag luggage around London all day long (whether it is for a shopping session, a museum visit or just for a walk)! There are so many things to do in London, so it's annoying to waste time looking for public lockers. So if you start typing things in Google like – "Can you pick up bags in the Natural History museum?" then this is the perfect time for you to start discovering what to do on your visit to London.
Our recommended Luggage Storage service for London is LuggageHero
LuggageHero is a Danish luggage storage company with more than 120+ locations in London.
LuggageHero is using free space in certified local shops, cafés, and hotels to store your luggage. All luggage is insured and sealed with unique security seals. This way of using local stores has increased in popularity since 2017.
Imagine flying to London and arriving several hours before check-in at your preferred hotel or Airbnb. Or maybe you have an early check-out but your flight is late afternoon or even in the evening.
Now, our data shows us that most people simply sit around with their bags and wait for the check-in/check-out instead of getting the most out of what London can offer such as London Bridge, Covent Garden, Wembley Stadium, British Museum, or the great London Eye.
As you probably already are aware, it quickly gets exhausting to explore a big city like London while carrying your luggage 😒 So what should you do to optimize your trip?
It is simple! You find a safe luggage locker to store your bag(s) nearby or choose to go with one of the many luggage storage services offering luggage storage space in London from local stores, cafées, and hotels.
Welcome to London's ultimate luggage storage guide on how to find the best, cheapest, and most flexible on-demand luggage storage providers in the capital of the United Kingdom as of 2022.
The good news is that it has become much easier to find a luggage storage location when visiting a city like London, and you don't longer have to drag your luggage around the entire city
Also, we like the flexible prices from LuggageHero the most as the company is the only luggage storage service providing hourly payment. You can take a closer look at LuggageHero and other luggage storage services' pricing below.
Store your luggage and don't think about it anymore
You can store every kind of luggage at our locations. It doesn't matter which size your luggage is, what's important is that you can chill without it. Store every kind of bag: backpack, trolley, ski equipment, and so on. And there's more! You choose how you want to pay, if by the or daily.
Flexible and easy to use
Are you staying more than one day? Don't worry! Not only it's super easy and flexible, but LuggageHero is also convenient: after the first day, you'll only pay £5 per bag! Your luggage can stay in our store locations also for long periods!
LuggageHero is the best luggage storage service in London
LuggageHero has +120 stores in London and they offer very flexible pricing which we consider a good choice.
With LuggageHero, prices are always a maximum of £8 per day!
We will continuously keep updating the above chart and we welcome all feedback about your experiences with using any of the companies listed here.
Half the price of station lockers and airport lockers
Luggage lockers, also called city lockers, are often at least twice as expensive on a daily basis as LuggageHero's luggage storage service. Until fairly recently, travelers could only stow their bags in these luggage lockers, which have limited pricing and location flexibility where to go and deposit luggage. Today, LuggageHero offers many stores in different cities in order for you to always have the option of dropping off your luggage in a secure location. Unlike luggage lockers in stations and airports, LuggageHero also offers both an hourly and daily rate for maximum flexibility. LuggageHero strives to offer secure and cheap luggage storage near you at all times.
Luggage storage facility for suitcase, baggage and odd-sized luggage
We check all our hotels and local shops to ensure that we can accommodate your needs, whether it's a ski equipment, photo equipment, backpacks or anything else. This is yet another way for us to give you the most flexible baggage storage, suitcase storage and luggage deposit.
Our service is similar to hotel luggage storage
Many travelers who have been customers at hotels have asked the staff at the reception if they could store their luggage until they leave the city later in the day. We offer, mostly, the same service for everyone – no matter if they stay at a hotel, Airbnb or anywhere else. We are always ready to help you out.
Stow your bags in verified stores with this discount code
We offer our loyal customers and new customers a discount code for two hours of FREE luggage storage. The discount code works the rest of [year] in ALL cities and ALL stores – including Premium Partner stores!
Our 2022 luggage storage London map
Our interactive map for London 2022 can be used to browse, explore and make your choice to where to store your luggage! Give it a try below:
Didn't have time to reserve luggage storage?
Taking a stroll around London? No worries, LuggageHero also has a walk-in option, which means you don't have to book ahead of time. There is no change in price; simply walk in, leave your bags, and explore London.
Luggage storage around the stations in 2022:
One of the most ideal places to store your luggage would be around the major train stations and tubes. Train stations almost always have lockers for left luggage so the travelers can store their luggage and go explore the city. Also, most of the bigger train stations have a connection which can take you to either Gatwick or Heathrow airport.
For example, you can find lockers for left luggage in Victoria Station, left luggage in Paddington, left luggage in King's Cross and you can overall leave your luggage all over London! One of the most popular stations and busiest is luggage storage King's Cross.
London has multiple railway terminals and underground lines with more than 200 underground stations spread out in the city. Paddington luggage storage is just one of the many opportunities to store luggage in London.
Below we have listed all the companies that can provide luggage within the station or just outside. And trust me there is a lot of money saved by walking just a few minutes outside the stations. Finding lockers in London is finally not so complicated!
Most popular luggage storage stations in London:
Luggage storage around London Airports
There are six London Airports in London, with Heathrow Airport and Gatwick Airport being the two main ones. All of them are linked to London by buses, shuttles or express trains so it is easy to get to the city. To leave luggage in London can be essential when one is having a long layover.
This allows travelers to store their luggage next to the railway stations that commute passengers to the airports and enjoy a hand-free and stress-free day.
We have made the best guide for the two most busy airports in London:
Luggage storage around museums and attractions
Most museums around London have a very strict no luggage policy. It's therefore crucial before heading to a museum that you check the website of the museum before going.
We have listed all the companies providing luggage storage near a museum such as the British Museum or an attraction like London Eye that has a strict no luggage policy.
Look out for luggage storage scams in London
When looking to store your bag in London, we advise you to look out for scams and always check online reviews on services like Trustpilot, Yelp, Google, and/or Facebook. Even though we write 2022, the scams are still out there.
Luggage Storage at Paddington Station, King's Cross lockers, and overall bag storage in London can be used to mislead tourists, so you need to use services that you know are safe in order to avoid losing belongings.
Trusted luggage storage services
We have provided you with some of the biggest and most trusted luggage storage services in London at the beginning of this page. You can therefore just scroll up to read about LuggageHero, Nannybag, and Radical Storage's prices.
We will in the following add a link to their Trustpilot accounts. By doing this, you can read more about what their customers think and use the rating to decide which luggage storage company you trust:
LuggageHero: Click here to read Trustpilot reviews.
Nannybag: Click here to read Trustpilot reviews.
Radical Storage: Click here to read trustpilot reviews
We have vetted all luggage storage services on this Guide
All the luggage storage companies on this London guide are vetted by us, and we tried the service ourselves. We have carefully selected the best luggage storage companies and listed each by:
Price (per day or hour)
Travel-friendly terms (cancellation fees etc.)
Reviews from 3rd party providers
Insurance or not? You won't be covered if the worst case happens
This is done for you to be able to choose the luggage storage service fitting you the best as there are a few factors to take into consideration. However, when you have found the right-left luggage service for you (whether it is left luggage King's Cross, left luggage Paddington, left luggage Victoria station, or any other major location in London) then you can be lucky that your preferred brand is also available at your next travel destination. The reason for this is that many of the luggage storage services have luggage lockers or locations in many big cities worldwide. Luggage lockers in London are quite popular due to the high amount of tourists yearly.
Looking for more about luggage storage?
Left luggage in London can be tricky. If you didn't find what you were looking for we can recommend the following site to find more information. You can find all kinds of information about London in general and opportunities for London storage lockers in popular stations.
Download the easiest luggage storage app in London
For even more comfort you can download the easiest luggage storage app in London created by LuggageHero where you can easily see all the most convenient locations around London. With this luggage storage app, you are able to find places to store luggage in London city anywhere in +120 locations with just a few clicks.
Use the official LuggageHero app to store your bags anywhere around the city!
Or download the App by scanning this QR code. It's that simple!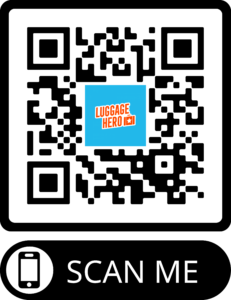 HotelsHero
By using HotelsHero you can save up to 75%! You can book a room or a whole apartment just for a day without having to stay overnight – something we have all been waiting for. Relax in the room, get some work done, or use the amenities that the hotel has to offer.
FAQ
Where can I store a luggage in London?
You can store your luggage at numerous spots in London. These are usually located close to the major attractions. One of the easiest accessible storages is LuggageHero which has a network of more than 120 stores all around London, close to London Brige, London Eye, Hyde Park, Trafalgar square, British museum, Big Ben and many other attractions.
How can I find the luggage storage in London?
You can download an app of LuggageHero, where you can see and explore all the locations, where you can store your luggage.
Which stations can I store my luggage at?
You can store your luggage at all the major stations all around London, such as Kings Cross, Euston, Victoria, Paddington, Liverpool Street, St Pancras, Waterloo and others.
How much does it cost to store my luggage?
The most convenient provider of luggage storage when compared price/time/safety is LuggageHero. The price for storing your baggage is £1 per hour and it is never more than £8 per day.
Is it safe to store my luggage?
It is totally safe to store your luggage with Luggage Hero, as they seal your items carefully. You automatically get your items insured, if they are of value up to £2200. LuggageHero operator also adheres and sticks to all the COVID-19 limitations and restrictions.
Is it safe to store luggage in London during the COVID-19 pandemic?
Yes, LuggageHero's storage locations are vetted and follow strict regulations when it comes to luggage storage. The storage procedure is entirely contact-free. Just remember to follow the restrictions, wear a face mask and sanitize before and after dropping off your luggage in London.
How can I find luggage storage near me?
It is very easy to find the closest bag storage option to you in London. There are a few ways to do that. You can download the LuggageHero app and find the closest location to you easily with just a few clicks. You can also try to visit the homepage to easily find the closest location to you by clicking the GO button on the search, on top of the page. With so many locations around London, there is storage near you no matter where you are.
If you are heading to Paris or New York in the near future, make sure to check out our guides on