2023 Guide: Luggage storage St Pancras International Station
Discovering London is definitely an enriching experience. However, it might not be that enriching if you have to carry around your suitcases. Also, many attractions don't even allow big bags or suitcases for safety reasons.
Luckily, there are many luggage storage options at St Pancras International Station. We have made a guide about the main solutions to free yourself and go enjoying the wonders of London without having to carry around your baggage. St Pancras bag storage has never been this easy before.
LuggageHero is the recommended luggage storage service at St Pancras International Station
We recommend LuggageHero for left luggage at St Pancras. The reason for this is that mentioned luggage storage service has a location around 200 meters from the station.
Store your luggage and don't think about it anymore You can store every kind of luggage at our locations. It doesn't matter which size your luggage is, what's important is that you can chill without it. Store every kind of bag: backpack, trolley, ski equipment, and so on. And there's more! With LuggageHero, prices are always from £1.29 per hour or £8.95 per day!
Flexible and easy to use
Are you staying more than one day? Don't worry! Not only it's super easy and flexible, but LuggageHero is also convenient: after the first day, you'll only pay from $5 per bag! Your luggage can stay in our store locations also for long periods!
Download the app for a smoother experience
Simply choose your preferred app provider underneath and experience the luggage storage as 2022 most popular travel hack:
Left luggage in St Pancras International Station!
If you want to store your luggage at the station you can do that too. St.Pancras Station offers several options, among which, well-known Excess Baggage Co. provides its service. It is a safe place where you can leave your luggage and pick it up later. You can find it next to Boots in the Circle area.
The opening hours are from Monday to Saturday from 06:00–22:00, and Sunday from 07:00–22:00.
However, if you look for the most convenient locations and accessible luggage storage 24/7, we have another candidate for you!
Luggage storage near St Pancras International
You can find below a description of the different types of luggage storage solutions available in the surroundings of St Pancras International Station with their characteristics.
Some of the options include luggage lockers St Pancras and St Pancras station lockers. St Pancras International luggage storage options are available in many locations nearby.
"Airbnb luggage storage" with LuggageHero and Radical Storage
Companies such as LuggageHero and Radical Storage allow travelers to drop their luggage in a secured restaurant, hotel or bar, providing cheaper prices and more flexibility compared to the traditional luggage storage facilities. No more needing to search for lockers near St Pancras!
LuggageHero allows customers to pay only for the exact time their luggage is stored, while Radical Storage propose their service at a unique price for the first 24 hours. The opening hours fluctuate according to the local shop in which you store your suitcases.
Self-storage with Access Self Storage.
Access Self Storage provides their customers with a locker of 1 square meter, which can contain up to 5 suitcases. However customers still have to pay a fee per suitcase and the Access Self Storage facilities to close relatively early.
Storage offices with Excess Baggage Storage
St Pancras luggage storage possibilities:
Excess Baggage Storage offers luggage storage solutions in the form of offices. These offices are present in most of the stations and are open from 7 am until 11 pm. Group discounts are available under some conditions.
Is there any difference between left luggage and luggage storage
Left luggage is the luggage that people leave in an established luggage storage facility. Left luggage is mostly being used in the UK. Luggage storage is a storage facility where luggage can be left. Luggage storage is the term used internationally when referring to storing luggage.
To sum up, there is absolutely no difference between the two concepts. Both reflect people's need of storing luggage that can be collected at a later time. So whether you are looking for left luggage or luggage storage, LugaggeHero can take care of your belongings.

St Pancras International Station's particularities
St Pancras International Station is a major London railway station. It is the terminus of the Eurostar coming from France, Belgium, and the Netherlands. Thanks to its proximity to King's Cross station and Euston station, travelers can easily join any part of England. Moreover, it is located on 6 different underground lines which allow passengers to commute to all parts of London.
There are a number of tourist attractions nearby such as Harry Potter's famous 9 ¾ Platform inside King's Cross station, Regent's Park and the British Library, the biggest library in the world. St Pancras station is also hosting the longest champagne bar in Europe.
What to do near Saint Pancras International Station

After you leave your luggage at St. Pancras, you can go enjoy the many things to do near the station.
Visit St. Pancras Old Church
Just a few minutes away from the station you can check out the CofE parish church, from the 12th-century, with a churchyard holding Sir John Soane's mausoleum.
Check out the British Library
Library containing the Magna Carta and handwritten Beatles lyrics on some 400 miles of shelves.
London Canal Museum
Unique venue tracing the history of London's canals, with a Victorian well used to store imported ice.
There is a lot to do and explore near St. Pancras. So store your bags and go explore the area without any worries!
Facilities in Saint Pancras International Station
The tickets office is available from 5:30 am until 10 pm. They provide "tickets for today" or "tickets in advance" solutions, as well as ticket machines. Eurostar tickets offices are open from 4:30 am until 8 pm.
Baby care facilities and toilets are available inside the station 24/7, free of charge.
A multitude of restaurants, snack places, and coffee shops are present in Saint Pancras Station.
Download the easiest luggage storage app in London
For even more comfort you can download the easiest luggage storage in the London app created by LuggageHero where you can easily see all the most convenient locations around London. With this luggage storage app, you are able to find places to store luggage in London city anywhere in +120 locations with just a few clicks.
Use the official LuggageHero app to store your bags anywhere around the city!
Or download the App by scanning this QR code. It's that simple!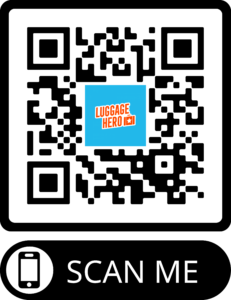 FAQ
Where can I store my luggage at St Pancras station?
You can store your luggage at Access Self Storage, Excess Baggage Storage, or LuggageHero. Since LuggageHero operates on a network of places, it might be easier to store your luggage with them as it might be more convenient with their several locations.
How much does it cost for storing the luggage at St Pancras station?
You can check the prices for Access Self Storage here, or Excess Baggage Storage. However, in our opinion, the most affordable and convenient choice is LuggageHero as they automatically insure your items and they never cost more than 8£ and only 1£ per hour.
What is there to do around St Pancras station?
St Pancras station is located in the centre of London, close to Kings Cross Station. Therefore, there is numerous attractions than are within walking distance and can be visitied. Such attractions are The Postal Museum, Madame Tussauds, Camden or the famous 9 3/4 platform known from Harry Potter story.
What are the opening hours of St Pancras station?
St Pancras Station is oepn 7 days a week and 24 hours a day.
Are there any F&B places near St Pancras station?
Not only there is a plenty of restaurants and cafés around St Pancras, you can totally satisfy your needs directly in the station. It is full of fastfoods, restaurants, cafés or bars.
Luggage Storage Guide for Paris in 2023
If you're planning to travel to Paris in 2023 and looking for a convenient place to store your luggage, be sure to check out this guide. It lists a variety of options, including luggage storage facilities located near popular tourist destinations, as well as luggage storage services offered by hotels and hostels. Whether you're looking for a short-term or long-term storage solution, this guide has you covered. With so many options to choose from, you're sure to find a luggage storage option that suits your needs and budget. So, before you head out to explore the city of lights, be sure to check out this guide to find the best place to store your luggage in Paris.