Guide 2023: Luggage storage in Liverpool Street Station
As of 2023, many attractions in London don't allow big bags or suitcases for safety reasons. Luckily, this luggage storage guide is here to assist you in making your trip a smooth by leaving baggage at Liverpool Street Station in London.
LuggageHero is the recommended luggage storage service at Liverpool Street Station
In our opinion, LuggageHero is the best option when looking for luggage storage nearby Liverpool Street Station. LuggageHero has several stores right outside the station. Due to this, you can walk to the nearest store in less than 1 minute.
Anyway, as we wrote on our front page, it is always a good idea to check the different luggage storage service reviews on Trustpilot.
To access LuggageHero's Trustpilot reviews click here
Store your luggage and don't think about it anymore
You can store every kind of luggage at our locations. It doesn't matter which size your luggage is, what's important is that you can chill without it. Store every kind of bag: backpack, trolley, ski equipment, and so on. And there's more! With LuggageHero, prices are always from £1.29 per hour or £8.95 per day! LuggageHero is the ONLY service offering hourly and daily rate unlike the other services.
Flexible and easy to use
Are you staying more than one day? Don't worry! Not only it's super easy and flexible, but LuggageHero is also convenient: after the first day, you'll only pay from £5 per bag! Your luggage can stay in our store locations also for long periods!
Download the easiest luggage storage app in London
For even more comfort you can download the easiest luggage storage in the London app created by LuggageHero where you can easily see all the most convenient locations around London. With this luggage storage app, you are able to find places to store luggage in London city anywhere in +120 locations with just a few clicks.
Use the official LuggageHero app to store your bags anywhere around the city!
Or download the App by scanning this QR code. It's that simple!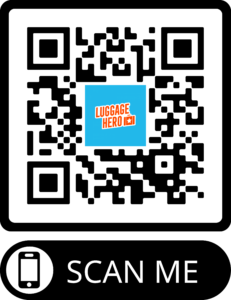 Types of luggage storage around Liverpool Street Station
Below you will find a description of the characteristics of some of the different left luggage solutions available in the surroundings of Liverpool Street Station.
"Airbnb luggage storage" with LuggageHero
LuggageHero allows travelers to drop their luggage and bags in a certified restaurant hotel bar or local shop. Travelers have to book online a location and drop their luggage which will be sealed with a LuggageHero tag. This company charges their customers only for the exact time that their bags are stored with full insurance.
This allows a more adaptive solution to luggage storage by enabling travelers to improvise their day. The opening hours fluctuate according to the local shop in which you store your suitcases.
Self-storage with Urban Locker Self Storage.
Urban Locker Self Storage provides storage units with sizes that vary from 10 square feet up to 300 square feet. You have access 7 days a week to your storage units in the opening hours of the facilities, which are monitored by CCTV 24/7. These facilities are also suitable for mid-term and long-term storage.
Storage offices with Excess Baggage Storage
Excess Baggage Storage offers luggage storage solutions in the form of offices. You can prebook a luggage storage space online or pay in-store on the day. These offices are present in most of the stations and airports and are open from 7 am until 11 pm. Group discounts and business storage are available under some conditions.
Is there any difference between left luggage and luggage storage
Left luggage is the luggage that people leave in an established luggage storage facility. Left luggage is mostly being used in the UK. Luggage storage is a storage facility where luggage can be left. Luggage storage is the term used internationally when referring to storing luggage.
To sum up, there is absolutely no difference between the two concepts. Both reflect people's need of storing luggage that can be collected at a later time. So whether you are looking for left luggage or luggage storage,LugaggeHero can take care of your belongings.
Liverpool Street Station particularities
Liverpool Street Station is the third busiest train station of Great Britain after Waterloo Station and Victoria Station. This station commutes passengers mainly to the East of England including Norwich, Cambridge, and Harlow Town. The Stansted Express linking Stansted Airport to the center of London departs from Liverpool Street Station. Moreover, Liverpool Street Station is on the Circle Line, the Metropolitan Line, and on the Hammersmith & City Line which allows passengers to reach all parts of inner London.
There are a number of tourist attractions nearby such as the Whitechapel Gallery,  the Bank of England, and the Spitalfields Market.
Facilities in Liverpool Street Station
The tickets office and ticket machines are available in the station. It is also possible to buy tickets in advance in the offices.
Men and women toilets are available for a fee, whereas baby change facilities are free.
ATM's and a bureau de change are present inside the station
A gym and a tanning facility are available in the station
A large variety of restaurants, snack places, and coffee shops are present in Liverpool Street Station and function almost 24/7.
Passengers can also find shops such as Boots, WHSmith, Neil's Yard, and Hotel Chocolat.
Download the easiest luggage storage app in London
Use the official LuggageHero app to store your bags anywhere around the city!
Or download the App by scanning this QR code. It's that simple!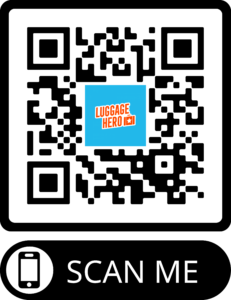 Luggage Storage Guide for Paris in 2023
If you're planning to travel to Paris in 2023 and looking for a convenient place to store your luggage, be sure to check out this guide. It lists a variety of options, including luggage storage facilities located near popular tourist destinations, as well as luggage storage services offered by hotels and hostels. Whether you're looking for a short-term or long-term storage solution, this guide has you covered. With so many options to choose from, you're sure to find a luggage storage option that suits your needs and budget. So, before you head out to explore the city of lights, be sure to check out this guide to find the best place to store your luggage in Paris.