Guide 2023: Luggage storage Kings Cross Station
King's Cross is a popular area in London as its station connects 6 London Underground lines: Circle, Hammersmith & City, Metropolitan, Northern, Piccadilly, and Victoria. In this guide, you'll find the relevant information to choose the best London Kings Cross luggage storage service. Underneath, we highlighted our preferred luggage storage provider.
LuggageHero is the recommended luggage storage service at King Cross Station
LuggageHero is our preferred luggage storage company at King's Cross Station. There are several reasons for this such as the number of locations in the area and flexible pricing, but it is mainly due to the LuggageHero store King's Cross Post Office. The mentioned store is located 200 meters from King's Cross Station. Therefore, it is super easy to stop by King's Cross Post Office and drop off your bags, and you do not have to book in advance. You can simply leave your luggage near Kings Cross and explore the city!
Download the app for a smoother experience
Simply choose your preferred app provider underneath and experience the luggage storage as 2022 most popular travel hack:
Half the price of station lockers and airport lockers
Luggage lockers, also called city lockers, are often at least twice as expensive on a daily basis as LuggageHero's luggage storage service. Until fairly recently, travelers could only stow their bags in these luggage lockers, which have limited pricing and location flexibility where to go and deposit luggage. Today, LuggageHero offers many stores in different cities in order for you to always have the option of dropping off your luggage in a secure location. Unlike luggage lockers in stations and airports, LuggageHero also offers both an hourly and daily rate for maximum flexibility. LuggageHero strives to offer secure and cheap luggage storage near you at all times.
Luggage storage facility for suitcase, baggage and odd-sized luggage
LuggageHero checks all of their hotels and local shops to ensure that they can accommodate your needs, whether it's ski equipment, photo equipment, backpacks or anything else. This is yet another way for them to give you the most flexible baggage storage, suitcase storage and luggage deposit.
Their service is similar to a hotel luggage storage
Many travelers who have been customers at hotels have asked the staff at the reception if they could store their luggage until they leave the city later in the day. They offer, mostly, the same service for everyone – no matter if they stay at a hotel, Airbnb or anywhere else. They are always ready to help you out.
Check out also some other locations:
Stow your bags in verified stores with this discount code
They offer their loyal customers and new customers a discount code for two hours of FREE luggage storage. The discount code works the rest of the year in ALL cities and ALL stores – including Premium Partner stores!
Is there any difference between left luggage and luggage storage
Left luggage is the luggage that people leave in an established luggage storage facility. Left luggage is mostly being used in the UK. Luggage storage is a storage facility where luggage can be left. Luggage storage is the term used internationally when referring to storing luggage.
To sum up, there is absolutely no difference between the two concepts. Both reflect people's need of storing luggage that can be collected at a later time. So whether you are looking for left luggage or luggage storage, LugaggeHero can take care of your belongings.
Left Luggage Kings Cross Tip: It can be expensive to store your luggage inside King's Cross Station. You can thus, walk for less than 2 min from the station for left luggage to find a LuggageHero store and save a lot of money! Left luggage near Kings Cross with LuggageHero is also safer than your regular lockers because of the insurance included. Note that some people have also left luggage at St. Pancras, a nearby station (only 500 metres), that shares the underground station with Kings Cross (Kings Cross St Pancras).
Price for Kings Cross Station luggage storage for 2023?
It depends on what luggage storage in Kings cross you use. However, if you go with our preferred luggage storage service for this particular area in London then you have to pay £1 for every hour of luggage storage.
Some of the other London lockers may be cheaper or more expensive depending on size, but lockers are generally not very safe and do not include insurance.
All the left luggage locations are vetted by us
We have listed all the vetted locations to store your luggage around King's Cross on this page.
There are many options to store your bags, suitcases or sports gear in King's Cross station. Here are the main solutions as of 2023 to free yourself and go enjoying the wonders of the British Capital without having to carry around your baggage.
"Airbnb luggage storage" around Kings Cross
Companies such as LuggageHero and Radical Storage allow travelers to drop their luggage in a secured restaurant, hotel or bar, providing cheaper prices and more flexibility compared to the traditional Kings Cross luggage storage facilities. Here's a brief review of the luggage storage services offered and compared.
These two companies offer similar services, though being different in several ways: LuggageHero London allows customers to pay only for the exact time their luggage is stored, while Radical Storage proposes their service at a unique price for the first 24 hours. Radical Storage asks their client a booking-fee whereas LuggageHero only makes their clients pay if they show up for the booking giving the most travel-friendly terms. Kings Cross left luggage is also incredibly safe in that way as there is insurance.
Checking online reviews for LuggageHero and Radical Storage:
As we wrote on our frontpage, it is always a good idea to check the different luggage storage services reviews on Trustpilot. We are trying to stay neutral so we will simply link to LuggageHero's Trustpilot account and Radical Storage's Trustpilot account for you to decide:
To access LuggageHero's Trustpilot reviews click here
To access Radical Storage Trustpilot reviews click here
Opening hours for luggage lockers Kings Cross
The opening hours fluctuate according to the local shop in which you store your suitcases, but overnight luggage storage is possible. You do, therefore, not have to pick up your luggage before closing time unless you have to use some belongings from your bags before the local shop opens again.
Keep in mind that only LuggageHero uses seals for each piece of luggage. Many other London storage lockers do not offer any guarantee for the safety of your luggage. With LuggageHero, you have no reason to worry about the safety of your bags and can just enjoy your day exploring the city.
Self-storage with Access Self Storage
Access Self Storage provides their customers with a locker of 1m2, which can contain up to 5 suitcases. You still have to pay a fee per suitcase and the Access Self Storage facilities close relatively early compared to other luggage services that use local shops such as Radical Storage and LuggageHero.
Excess Baggage Storage Offices
Excess Baggage Storage offers Kings Cross luggage storage solutions in the form of offices. These offices are present in most of the stations and are open from 7 am until 11 pm. Group discounts are available under some conditions but we advise you to read the requirements on the website. Suitcase storage London and prices may also depend on the size of your suitcase and the amounts of suitcases.
King's Cross Station's particularities
King's Cross has been named after the statue of King George IV installed on an important crossroads at the time. The statue has been demolished but has given the whole area and the station its name. Historically the biggest station in all of Britain, King's Cross station remains one of the most important train stations in London. It is located in the Northern part of the City, at a very close distance from St Pancras International station which is hosting the Eurostar. These two stations are the main national transportation services of this London district. Euston station is also relatively close.
King's Cross St Pancras tube station allows passengers to reach all parts of London thanks to the Victoria line, the Metropolitan line, the Hammersmith & City line, and the Circle line. It is located at the crossroads between Euston Road, Pentonville Road, and York Way.
There are a number of tourist attractions nearby such as the Harry Potter's famous 9 ¾ Platform inside King's Cross station, Regent's Park, and the British Library, the biggest library in the world.
Facilities in King's Cross Station
The tickets office is available from 6 am to 10:15 pm. They provide "tickets for today" or "tickets in advance" solutions, as well as ticket machines.
Showers, baby care facilities, and toilets are available inside the station in exchange for a fee.
A multitude of restaurants, snack places, and coffee shops are present in King's Cross station.
Passengers can also find shops such as Boots WHSmith, TV Levin and buy official Harry Potter merchandise.
Remember to download the app for an easier experience
For even more comfort you can download the easiest luggage storage in the London app created by LuggageHero where you can easily see all the most convenient locations around London. With this luggage storage app, you are able to find places to store luggage in London city anywhere in +120 locations with just a few clicks.
Use the official LuggageHero app to store your bags anywhere around the city!
Or download the App by scanning this QR code. It's that simple!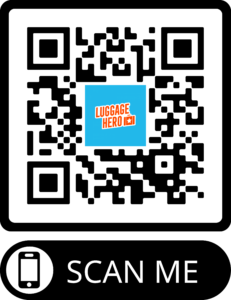 Other relevant websites to read when staying in London
We want to offer our readers with other information related to luggage storage or just being a visitor in London:
Visit London is a classic. You can read a lot of information about the city of London.
Free tours by foot is a global website for travelers. It is also highly relevant for London.
All in London… Surprise, it is all about London and they know what they are talking about.
Network Rail is about transport in UK – London included.
Seat 61 is also all about traveling from city to city and MUCH more.
FAQ
Where can I store my luggage at Kings Cross station?
You have several options for storing your luggage at Kings Cross station. You can store it with Access Self Storage, Excess Baggage Storage, or LugaggeHero. With LuggageHero, you can choose your most convenient location, as they have a network of places where you can store your luggage.
How much does it cost for storing the luggage at Kings Cross station?
If you decide to go with our preferred provider of baggage storage, LuggageHero, then it will cost you £1 for every hour of luggage storage. Although, the maximum amount would be no more than £8 for an entire day.
What is there to do around Kings Cross station?
Plenty of things! You have it just a few steps from Granary Square, Drama Centre, Gasholders and their park and many other attractions. Probably the most famous one is the station itself as it plays a significant role in the wizarding world of Harry Potter. You can find platform 9 3/4 and its official merchandise store.
What are the opening hours of Kings Cross station?
The station is open 7 days a week from 5. am to 1. am.
Are there any F&B places near Kings Cross station?
Yes! And many! You can find restaurants, bistros, cafes, bars, wine bars, and pubs of all kinds close to Kings Cross. We assure you, you will not walk more than 10 minutes, to reach one of these places.
Are these storing services safe?
YES! LuggageHero, for example, places security seals in each of your bags through the zippers, to assure that luggage remains secure and to prove that no one has opened or tampered with your luggage. Insurance is also available.
The areas around the station have been renewed. It usually is very safe.
Store your luggage and don't think about it anymore
You can store every kind of luggage at our locations. It doesn't matter which size your luggage is, what's important is that you can chill without it. Store every kind of bag: backpack, trolley, ski equipment, and so on. And there's more! You choose how you want to pay, if by the or daily.
Are you staying more than one day? Don't worry! Not only it's super easy and flexible, but LuggageHero is also convenient: after the first day, you'll only pay £5 per bag! Your luggage can stay in our store locations also for long periods!
Luggage Storage Guide for Paris in 2023
If you're planning to travel to Paris in 2023 and looking for a convenient place to store your luggage, be sure to check out this guide. It lists a variety of options, including luggage storage facilities located near popular tourist destinations, as well as luggage storage services offered by hotels and hostels. Whether you're looking for a short-term or long-term storage solution, this guide has you covered. With so many options to choose from, you're sure to find a luggage storage option that suits your needs and budget. So, before you head out to explore the city of lights, be sure to check out this guide to find the best place to store your luggage in Paris.